Swetcharnik.com showcases the art and social projects of
William Swetcharnik and Sara Morris Swetcharnik.
For short biographies on the artists, continue below. For more detailed information and works of art, click on each of the three main categories above.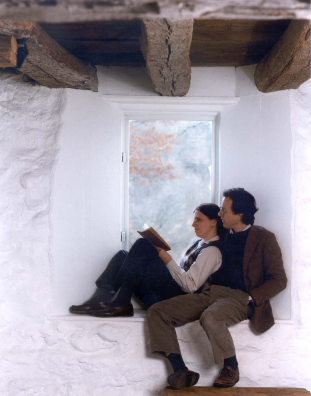 William and Sara Swetcharnik in their barn/home/studio, circa 1989. Photo by Harriett Wise.
William Swetcharnik is a widely known North American artist with extensive experience in the use of historical painting media. Best known for his complex, allegorical, installation-oriented paintings, Swetcharnik began making his livelihood as a portraitist in 1977. In 1981, he began his series of allegorical paintings titled Vanitas Fare. In 1985, with the help of a fellowship from the Cintas Foundation, Swetcharnik withdrew from commercial gallery affiliations in order to concentrate on his Vanitas Fare project. Since then, he has never returned to the gallery marketplace, preferring rather to exhibit only in museums and other non-commercial settings.
William Swetcharnik also serves from time to time as artist-in-residence and teacher of master classes and workshops. Under the United States Arts in America program, he began to lecture widely in the Caribbean and Eastern Europe, regions from which he traces much of his ancestry. With the initial help of a CIES Fulbright grant to Honduras in 1995, he established the Latin American Art Resource Project (LAARP), teaching ancient Mesoamerican techniques to art educators and enabling them to revive these traditions though school mural projects, artisan cooperatives, and many other areas of social and educational need. He also undertook a series of paintings employing indigenous materials, on which he has continued to work since returning to the USA in 2002. The sale of his art helps support his Art Resource Traditions program, He also undertook a series of paintings employing indigenous materials, on which he has continued to work since returning to the USA in 2002.
Sara Morris Swetcharnik is a sculptor, painter and writer of narratives. She began her career with a deep grounding in representational studio arts. After a Fulbright grant to Spain, she became increasingly interested in the artistic representation of animals. Ms. Swetcharnik's hope is that her work will provide a heightened esthetic experience while cultivating environmental concern among those who appreciate her portrayals of animals. At one zoo exhibition, a visitor looked at her bronze sculpture of a Komodo dragon yearling and commented: "I have always hated reptiles, but this sculpture has a poetic grace that helps me to care about this endangered species."
In 2002, William and Sara returned from Honduras to their studio and home, which are in a converted historic barn in the Maryland countryside near Washington, DC (see photograph). This barn was probably first constructed in the late 1700's. Dismantled and rebuilt a century ago, its original hand-hewn beams are still visible in the stone bank barn that once served as a stable and has been turned into living quarters. Built entirely with traditional wooden mortise-and-tenon techniques, the upper area has been framed out into spacious studio and workshop areas. Art aficionados and prospective interns are welcome to visit by appointment.